Sign-Up For GuruFundPicks® AlphaNewsEdge Trade Alert Service
Identifying Profitable Trading Setups Based on Fundamental Analysis of News Events Using Our Proprietary System
---
✱ Market-Beating Returns        ✱ Event-Driven Strategy        ✱ Auto-Trading        ✱ Free Trial        ✱ Money Back Guarantee
GuruFundPicks® Trade Alerts Portfolio Returned 545.6% In The Last Five-Plus Years
Beating The Markets By ~21,431 basis pts… Here Is How We Can Help You…
Is the Trade Alerts Service Right For Me?
Whether you are a novice or experienced investor or trader, our unique, market-beating, trade alerts system has the potential to super-charge your portfolio returns. You can selectively execute on the trade alerts on your own, or you can automate your trades for immediate execution via our partner, online broker DittoTrade® (DittoTrade is currently not operational; we will update our partner for automating trades, when we select a new partner for trade automation).
The trade automation service is particularly well-suited to busy professionals and entrepreneurs, as well as international customers, who may not have the time or willingness to do their own research, and cannot follow the markets during the trading day, but still want to generate above-average returns for their portfolio.
If you do not fit this profile, you should review our Consensus Picks Tools, suitable for DIY investors & traders, and our ConsensusAlpha Newsletters, suitable for all investors.
Which Trade Alerts Service is Right For Me?
If you want to automate your trade execution via our partner, online broker DittoTrade®, with the potential for improved pricing due to quicker execution, you should pick the 'Trade Alerts Auto-Trade' plan. If not, then the base 'Trade Alerts' service is right for you.
How do you Select Which Stocks to Trade?
At the core, we are stock pickers, screening for stocks with a huge catalyst for higher prices that is not yet factored into analyst estimates, creating a favorable risk/reward ratio. Our ideal target is a stock with higher fwd. growth than is baked into its price, and that is selling at a discount vs. its peers.
Besides news and quarter reports, we rely on our proprietary screens, tools & ratios developed over twenty years of trading the markets, including our Consensus Picks DIY tools, insider trading, and over a dozen other current & historical sector and stock-related analysis and indicators. Our picks are based on fundamental analysis, but we use technical analysis to more precisely time entries & exits.
Further examples of how we think about and analyze stocks can be found by gleaning through our over 900 articles on financial blogs, including Seeking Alpha.
How do you manage risk?
A number of different ways. One, diversification, as we generally hold ten-fifteen stocks, with an average of 7% weighting in each stock. And although over-invested in tech, we try to be not over-concentrated in any one tech industry group. Two, position sizing, as we size positions based on market-cap, stock and industry risk. Three, we trade only stocks, no options, futures or any other leverage instruments. Four, shorting and trading counter-cyclical stocks with a small portion of the portfolio, when market conditions warrant it. Five, we don't day-trade, with our average holding period being about four weeks.
What do I get with Trade Alerts Membership?
Trade Alert memberships include:
1Avg. of three buy & three sell alerts per week.
2Position sizing based on opportunity & risk.
3Summary fundamental investment|trading thesis.
4Buy-limits & stop-losses when appropriate.
5Scaling in & out when appropriate.
6End-of-week Newsletter: Usually 5-8 page comprehensive newsletter openly discussing our thinking on every position, learning from our wins, misses and losses, and strategy going fwd.
7Optional Auto-Trade Execution: Available via our partner, online broker DittoTrade®, alerts delivered to DittoTrade for execution per your instructions. Please contact us for more details.
View sample buy alerts (PLUG, RJET, BLOX, PLNR & ZAGG).
View sample sell alerts (ACI, EJ, ASM, SZMK & MSON).
What Other Benefits Are Offered to Members?
Trade alerts members have access to following info on All-Stock-Data-At-A-Glance page for all 6,700+ stocks owned by top funds:
8Top Buyers, Sellers & Holders.
9Archive of All 13D/G Filings for Two+ Years.
10Current fundamentals vs. closest peer group.
11Latest Chart
12Latest News
Additional benefits of Trade Alerts membership include:
13Access to latest SEC 13-F's by 330+ top funds (view sample).
14Access to latest SEC 13-D/G's by 330+ top funds (view sample).
15Advance early access to our 'Top Ideas' & other articles.
16Periodic e-mails outlining value opportunities.
Can I Beat the Market Using Your System?
The performance of our trade alerts system is as illustrated on this page. Our trade alert e-mails are time-stamped for easy verification, should you choose to do so, and they are also easily retrievable from the performance tables on the member pages.
The alert prices used in calculating system performance correspond to the time the trade alerts were sent. In a study aggregating 350+ alerts sent during the first 14 mos. of trading, we found that the average price in the first 15 min. after the alerts were sent were 0.3% lower for buy alerts, in your favor, and 1.0% lower in the case of sell alerts. All of this data is available on the member pages.
Where slippage is still a concern, auto-trade alert execution, offered via DittoTrade® offers you the convenience, as well as the potential for better pricing.
If you still have any doubts, please contact us with your questions. We usually respond promptly, and always within 24 hours. Also, you should be assured that if you decide to give us a try, all of our memberships on GuruFundPicks.com come with a no questions asked, 100% money-back guarantee, as long as you cancel before the first 30-days after you subscribe to one of our plans.
Do you focus on any one Sector or group?
Yes and No. No, because we are opportunistic, and are in principle sector agnostic. Yes, because our bias for under-followed growth opportunities often lands us in the technology space. The graph below illustrates the Sector distribution of our picks since inception.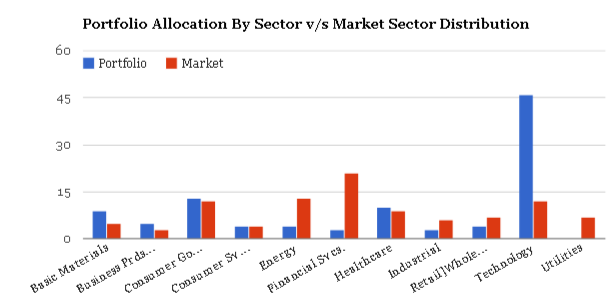 Do you focus on any particular market-cap?
Yes. Over the years, we have determined that our unique fundamentals-based news-event based strategy offers the best potential upside when focusing on the small-cap portion of the market. However, we are not exclusively focused on small-caps, and will trade mid- and large-caps when appropriate. To-date, about 85% of our trades have been in the small-cap space, with most of the remaining 15% in the mid-cap segment.
How do I Subscribe? What Are the Rates?
You can subscribe with your credit or debit card using the form below, and picking the right plan and subscription period. Users of PayPal can purchase their subscription by clicking on the appropriate buttons at the bottom of the page.
The subscription rates are as follows:
✱  Trade Alerts Membership – $99/mos.|$249/qtr.|$749/year
✱  Trade Alerts Auto-Trade – $139/mos.|$339/qtr.|$999/year
Trade Alerts Service Results (Oct 2013 – )
✱  Portfolio Return:                                          545.6%
✱  Russell 2000 Index Return:                      65.7%

A sample of our big winners (by Sector):
Basic Materials
✱  Freeport-McMoran (FCX): Sold 10/12/15 at $13.18 (up 64%).
✱  Arch Coal (ACI): Sold 11/10/14 at $2.76 (up 49%).
✱  Cliff Natural Resources (CLF): Sold 7/13/16 at $7.16 (up 48%).
✱  Avino Silver & Gold (ASM): Sold 2/7/14 at $1.96 (up 46%).
✱  Freeport-McMoran (FCX): Sold 2/4/16 at $5.65 (up 45%).
✱  Arch Coal (ACI): Sold 10/16/14 at $2.16 (up 39%).
✱  Huntsman Corp (HUN): Sold 10/8/15 at $13.22 (up 38%).
✱  Hecla Mining (HL): Sold 5/18/16 at $4.30 (up 38%).
✱  A-Mark Precious Metals (AMRK): Sold 11/18/15 at $15.61 (up 35%).
✱  Lake Shore Gold (LSG): Sold 1/27/14 at $0.65 (up 30%).
Energy
✱  Solaris Oilfield (SOI): Sold 12/14/17 at $18.81 (up 74%).
✱  Seadrill (SDRL): Sold 3/3/16 at $2.84 (up 53%).
✱  Aegean Marine Petroleum (ANW): Sold 8/19/16 at $10.51 (up 36%).
✱  Transocean (RIG): Sold 3/4/16 at $10.81 (up 35%).
Consumer & Retail
✱  China Automotive (CAAS): Sold 12/7/16 at $7.32 (up 85%).
✱  Zagg (ZAGG): Sold 9/8/17 at $11.72 (up 80%).
✱  Fred's Inc (FRED): Sold 10/18/18 at $2.97 (up 79%).
✱  Good Times Restaurant (GTIM): Sold 11/6/18 at $4.24 (up 59%).
✱  Christopher & Banks (CBK): Sold 1/10/17 at $2.31 (up 55%).
✱  Weight Watchers (WTW): Sold 3/1/17 at $16.45 (up 53%).
✱  Omega Protein (OME): Sold 11/22/13 at $14.39 (up 53%).
✱  Huami Corp (HMI): Sold 2/21/19 at $15.73 (up 42%).
✱  Francescas (FRAN): Sold 6/25/18 at $7.76 (up 40%).
✱  Zagg (ZAGG): Sold 7/8/14 at $5.89 (up 36%).
✱  The Cato Corp (CATO): Sold 5/18/18 at $18/13 (up 36%).
✱  58.com (WUBA): Sold 1/5/18 at $79.61 (up 36%).
✱  SuperValu (SVU): Sold 3/18/16 at $5.91 (up 35%).
✱  Freshpet (FRPT): Sold 12/1/15 at $8.60 (up 33%).
✱  Sears Hometown & Outlet (SHOS): Sold 7/8/15 at $9.11 (up 33%).
✱  Tile Shop (TTS): Sold 6/13/18 at $7.84 (up 33%).
✱  New York & Co (NWY): Sold 12/20/17 at $2.74 (up 32%).
✱  Stamps.com (STMP): Sold 7/3/17 at $152.84 (up 31%).
✱  SuperValu (SVU): Sold 12/14/17 at $19.69 (up 31%).
✱  Oceam Biochem (OBCI): Sold 4/24/17 at $4.65 (up urrent Holding (up 31%).
✱  L-rad Corp (LRAD): Sold 8/14/14 at $2.86 (up 30%).
Healthcare
✱  Immunocellular (IMUC): Sold 12/27/13 at $1.03 (up 45%).
✱  Simulations Plus (SLP): Sold 9/28/15 at $9.20 (up 40%).
✱  Pro-Dex Inc (PDEX): Sold 4/4/16 at $3.76 (up 39%).
✱  RealWalk Robotics (RWLK): Sold 12/17/15 at $11.55 (up 37%).
✱  Immunocellular (IMUC): Sold 1/21/14 at $1.42 (up 37%).
✱  Misonix (MSON): Sold 9/23/14 at $11.65 (up 37%).
✱  Diplomat Pharmacy (DPLO): Sold 11/6/17 at $20.74 (up 31%).
✱  Neptune Tech (NEPT): Sold 10/13/16 at $1.41 (up 30%).
Industrials
✱  AK Steel (AKS): Sold 11/15/16 at $8.05 (up 47%).
✱  Joy Global (JOY): Sold 2/17/16 at $12.85 (up 39%).
✱  Wildan Group (WLDN): Sold 8/23/16 at $15.26 (up 36%).
✱  IES Holdings (IESC): Sold 12/14/16 at $20.81 (up 36%).
✱  Atkore Intl. (ATKR): Sold 9/7/18 at $26.58 (up 33%).
✱  AK Steel (AKS): Sold 4/16/15 at $5.21 (up 33%).
✱  Pioneer Power (PPSI): Sold 2/1/17 at $8.75 (up 30%).
Technology
✱  SMART Global (SGH): Sold 10/13/17 at $33.85 (up 100%).
✱  Impinj (PI): Sold 6/6/18 at $19.71 (up 63%).
✱  Finjan Holdings (FNJN): Sold 5/26/17 at $3.18 (up 58%).
✱  Evoqua Water (AQUA): Sold 3/5/19 at $13.65 (up 56%).
✱  Lionbridge Tech (LIOX): Sold 11/18/13 at $5.95 (up 54%).
✱  Remark Holdings (MARK): Sold 11/17/17 at $5.78 (up 54%).
✱  Applied Optoelectronics (AAOI): Sold 3/25/15 at $13.74 (up 53%).
✱  Quidan (QD): Sold 6/26/19 at $8.04 (up 51%).
✱  Secoo Holding (SECO): Sold 1/11/18 at $13.05 (up 45%).
✱  Carvana (CVNA): Sold 6/14/17 at $15.91 (up 44%).
✱  Neophotonics Corp (NPTN): Sold 7/27/16 at $13.11 (up 40%).
✱  Veritone (VERI): Sold 5/31/19 at $9.32 (up 40%).
✱  Ballard Power (BLDP): Sold 10/11/16 at $2.30 (up 38%).
✱  Neophotonics (NPTN): Sold 3/19/15 at $5.97 (up 38%).
✱  Clean Diesel Tech (CDTI): Sold 6/1/15 at $3.24 (up 38%).
✱  Bitauto Hldgs. (BITA): Sold 11/18/13 at $32.74 (up 38%).
✱  Stitch Fix (SFIX): Sold 6/25/18 at $28.81 (up 35%).
✱  Daqo New Energy (DQ): Sold 4/25/16 at $24.48 (up 34%).
✱  Five9 Inc (FIVN): Sold 4/1/15 at $5.35 (up 34%).
✱  Violin Memory (VMEM): Sold 6/18/14 at $4.52 (up 34%).
✱  Oclaro Inc (OCLR): Sold 9/9/16 at $8.34 (up 33%).
✱  Neophotonics (NPTN): Sold 6/8/15 at $9.25 (up 33%).
✱  Plug Power (PLUG): Sold 1/3/14 at $2.59 (up 33%).
✱  Computer Task Group (CTG): Sold 2/27/18 at $7.84 (up 32%).
✱  Cemtrx (CETX): Sold 12/30/16 at $7.17 (up 30%).
Other Sectors
✱  Mastech Hldgs. (MHH): Sold 11/19/13 at $23.04 (up 91%).
✱  Atlas Air (AAWW): Sold 3/2/17 at $57.20 (up 55%).
✱  The Rubicon Project (RUBI): Sold 6/22/18 at $3.15 (up 54%).
✱  Azul SA (AZUL): Sold 11/14/18 at $25.74 (up 38%).
✱  Clean Diesel Tech (CDTI): Sold 6/1/15 at $3.24 (up 38%).
✱  E-House (China) Hldgs. (EJ): Sold 7/25/14 at $11.50 (up 40%).
✱  Sharps Compliance (SMED): Sold 9/25/15 at $9.14 (up 33%).
✱  Sizmek (SZMK): Sold 3/7/14 at $12.90 (up 32%).

Do you buy penny stocks?
We are opportunistic, so we don't rule out any stocks based on price. That having been said, we try extremely hard to avoid them, and will only consider them in exceptional situations where the potential upside is just too difficult to forgo, and that too if the company can pass through our rigorous checks for quality. The chart below illustrates the price distribution of our picks since inception. As indicated, stocks priced at <$2 constitute only about six percent of our picks, with penny stocks (<$1) at less than half of that. The median price of our picks is usually in the $12 to $15 range.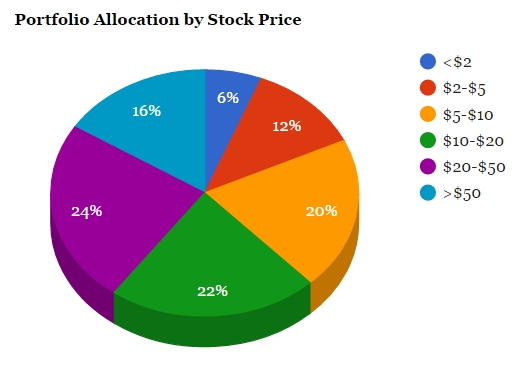 Our Credentials
Our founder & CEO, Manish Babla has more than two decades of experience investing. During the past 10+ years, he has been managing full-time his family partnership fund Ganaxi Capital, during which he has out-performed the markets using Consensus Picks' & other proprietary methodologies, including generating a 2,600% return in 3 years.
Mr. Babla holds a M.S.(Engg.), and MBA from University of Virginia Darden School of Business. He has 10+ years consulting experience, including advising Fortune 500 Sr. Execs while working at Management Consultant A.T. Kearney. For more info, view his LinkedIn Profile.
Assisting him and Ms. Sheth, a graduate of the NYU Stern School of Business, is a team handling website design, marketing, data analysis & customer support to serve the thousands of subscribers that use our services.
GuruFundPicks® is also a top author on leading financial blog Seeking Alpha, writing over 900 premium & 'Top Ideas' articles since early 2011. Our articles have also been featured on Motley Fool, CNBC, Yahoo! Finance, Google Finance, and other portals.
Do You Offer A Free Trial?
You may try us risk-free. All GuruFundPicks.com subscriptions come with a 7-day free trial and a 30-day no-questions-asked 100% money-back guarantee. Transactions are processed at the end of your 7-day free trial period, so if you cancel before that time, there will be no charges. Beyond that, if you cancel within 30-days, you will receive a full refund, no-questions-asked.
---
Pay via credit or debit card…
---
Important: Current subscribers, free or paid, will have to log-in first, before purchasing or upgrading a subscription.
---
Pay via PayPal using the buttons below…
– Select this for GuruFundPicks® Trade Alert Service – $99/Mos. payment option
---
– Select this for GuruFundPicks® Automated Trade Alerts – $139/Mos. payment option
---
– Select this for GuruFundPicks® Trade Alert Service – $249/Qtr. payment option
---
– Select this for GuruFundPicks® Automated Trade Alerts – $339/Qtr. payment option
---
– Select this for GuruFundPicks® Trade Alert Service – $749/Year payment option
---
– Select this for GuruFundPicks® Automated Trade Alerts – $999/Year payment option
What Our Subscribers Are Saying About Us
…Wow! I can't believe my portfolio was up in January while markets took a nosedive. Thanks!
I like that you include fundamental 'thesis' (in your alerts). It is informative and educational.
I have followed you on Seeking Alpha, and have benefited from many of your picks. I appreciate the opportunity to subscribe to your service.
Your devotion and attention is commendable… I appreciate your 2nd note on PLUG even after you sold it earlier. It helped me get out near the top.
Thank you for your prompt response, which is a hallmark of your service….I would also say that your service is the first which I have seen which does not overstate your gains.
I buy only large-caps, so your service was not for me… You do the cancellation very well, prompt, honest.